How do you choose what you want for your stained concrete floor project? The factors to consider are:
· Cost
· Color and Reflectivity
· Cleaning
Cost Factors
Re-Crete feels that it is very important to protect your stained concrete floors with a wax finish (acrylic floor finish) after we seal your floor. The sealer protects the concrete stain and the wax protects the sealer. This will add many years to your floor. The issue right now is that glossy waxes (acrylic floor finishes) are easy to find and relativity inexpensive. Matte finish waxes are more difficult to find and more costly.
Color and Reflectivity
The biggest influence on choice is the final look you want for your decorative floor. The glossy finish will make the stained concrete colors "pop" and be more vibrant. They also make the floor more reflective, meaning the room will be lighter as it reflects all the light sources back into the room. This means that you might need less room lighting, therefore using less energy. The matte finish is a more natural stone look and seems to be trending more with darker finishes and paint colors.  This is a great look with the salvage industrial decorating style.
Cleaning Factors
A glossy stained concrete floor is easier to clean because it gives you a smoother floor, but will show wear more quickly. A matte concrete stained floor will hide more imperfections such as an uneven floor and even some scuff marks.
The choice is yours
.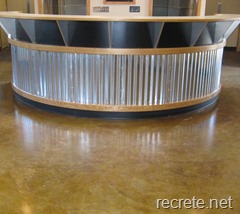 Coffee Bean Dye with Glossy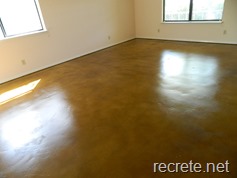 Coffee Bean Dye with Matte