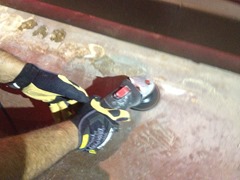 I have used different versions of the Mechanix gloves for years and I LOVE them. They make durable, long lasting gloves that can deal with years of hard labor. My hands are essential to my life and to my work. I have had a few hand injuries that could have been lessened had I had gloves on. (Lesson learned!)
I have tried different brands over the years that have gotten worn out with grinding and sawcutting in just a few months. The fingers of other gloves just wear away with all the dust and dirt that comes with prepping floors.
A while back I got a pair of the Material 4X M-Pact gloves from Mechanix. I have been using this pair for about 5 months now and the gloves show very little signs of being worn. If you saw them you would not believe that that they had been used that much.
The gloves are intended for:
· Multipurpose
· Abrasive material handling
· Fabrication
· Construction
· Railroad
· Woodwork
· Maintenance & repair
· Heavy equipment operation
· Towing & transportation
· DIY/Home improvement
Keeping my Hands Safe and Warm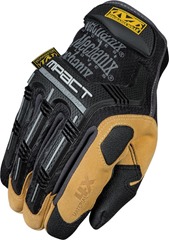 Luckily, living in Texas, we don't deal with super cold temperatures but when it has gotten cold my hands have been kept warm and comfortable with these gloves on.
For anyone who has used a grinder for longer than 10 minutes, I can tell you, they heat up QUICK! The gloves protected my hands from the searing hot grinder body. I also noticed a fair amount of vibration reduction on my hands. After a full day of grinding, my hands didn't feel like they were still grinding, like they have in the past.
Great Knuckle Protection
I am always on my hands and knees on job sites simply because that is where the work is. I have a rolling knee cart that replaced my knee pads a few years back where I typically use my fist to drag myself a few inches. The Mechanix glove has a Thermal Plastic Rubber on the knuckle area that helps keep my knuckles out of harms' way.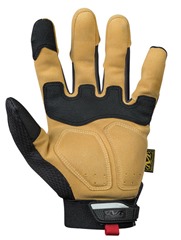 The gloves have a hook and loop wrist strap that is a very high quality. This isn't the normal crap catching style you see everywhere else. This keeps the gloves from coming undone while you are working because the hooks aren't filled with hair and debris. The strap is locking on the palm side of your hand which seems to keep the strap from getting undone better than when it is on the back side.
The Mechanix Material 4X M-Pact gloves are not designed for ultra dexterity but I have combo locks on my trailer and I can turn the dials easily enough to unlock them with the gloves on.
Large Selection
Mechanix makes a very large selection of gloves for just about every application out there.
Overall Thoughts:
The Mechanix Material4X M-Pact gloves are a hard glove to beat when you know your hands are going to be taking a beating on the jobsite.